The school building consists of 1,800 square feet of building space in an attractive northwest area of Gainesville, FL.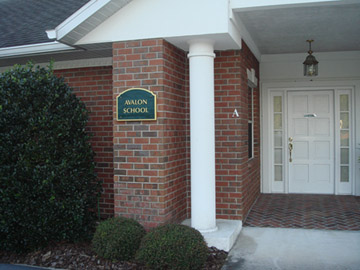 Contact us
if you have any questions.
E-mail: AvalonAstrologySchool@gmail.com
Phone #: 1-352-373-1504
Classroom
Can accommodate at least 35-40 people, equipped with a computer and digital LCD projector
Llibrary
Very comprehensive library that has variety of astrological books and materials. Library books were made possible by our books donors.
Computer room
Equipped with computers, printers, audio and video tapes, and tape equipment.
Student lounge, student hall, and administration office
Small Kitchen with Refrigerator
Students have access to the library, student lounge, computer room, and the kitchen during school hours.
The building and surroundings are pleasant, with trees, a small park, and woods nearby. There is a shopping area with grocery store, restaurant, etc. about 1/2 mile (1 minute drive) from the school.
Classroom for Rent
There are 4 rooms that are available. The main classroom accomodates about 25 people comfortably with tables, and up to about 35 to 40 people without tables. A large whiteboard (6 feet x 4 feet) is provided. Power point presentations and other computer presentations are presented on a large screen over 6 feet in size. The projector is ceiling mounted and all you need to do is plug in your laptop computer. Technical specifications: a computer with 1024x768 resolution will give the best results.
The library can also be used for groups of up to about 10 people. A whiteboard is provided.
There are also 2 small offices where meetings of about 6 or fewer people can meet. There is also a reception area and a small kitchen.
For out of town attendees who fly into Gainesville for a seminar consider the Gateway Grand or other hotel and having a van pick up attendees from the hotel in the morning and bringing them back at the end of the day, so that the attendees do not need to rent a car.
A small shopping center less than a 5 minute drive from the school has a Mexican restaurant, a supermarket deli, a Strarbucks, and a Subway sandwich shop.
$175 per weekend for the main classroom (all day Saturday and Sunday)
$50 per weekday evening for the main classroom.
$100 per day for the main classroom.
Gainesville is located in north central Florida, and is not as prone to hurricanes and the coastal areas, south Florida, and the Florida panhandle. Hurricanes and storms are most frequent in mid to late summer, and summers are hot and humid, so the least desirable time to be in Gainesville is July and August. Winters are mild and sometimes a bit chilly; this is not south Florida., a little over 2 hour drive north of Orlando and a little over 1 hour Southwest of Jacksonville. Saint Augustine is a little over 1 hour drive east of Gainesville. The population of Gainesville is about 100,000 people with a population in the surrounding area almost double that. The University of Florida and Santa Fe College are large employers, and there are also a good number of smaller technology firms (Medical Manager, Barr Systems, etc.) and various professional services. Because higher education is the main industry of Gainesville, there are excellent libraries and other educational facilities. Click here for more details.....
[TOP]